Company History
Our Way to Success
2013
Company Founded
Subsidys by Korea Evaluation Institute Of Industrial Technology
2014
Developed IoT Smart Sensor
Our First model of power metering sensor PowerGate was developed in November 2014. Since then, our hardware specialists are working on upgrade and adding new features such as Rogowski Coil configuration, combining three sensors into one sensor (PG-300 FS), and developing DC meter, etc.
2015
First International patent registered
Submission of numerous patent was on going during this year and our first International Intellectual Property was registered! Since then, the products and service are certified and protected by group of certificates and IPR.
2017
BIXPO Power Technology Award!
STARKOFF DeepSense® Technology is awarded Bronze Trophy among 32 international teams and companies
---
I believe that the success in business is based on mutual trust toward our sustainable future vision.

Terry Ahn - CEO of STARKOFF Co., Ltd.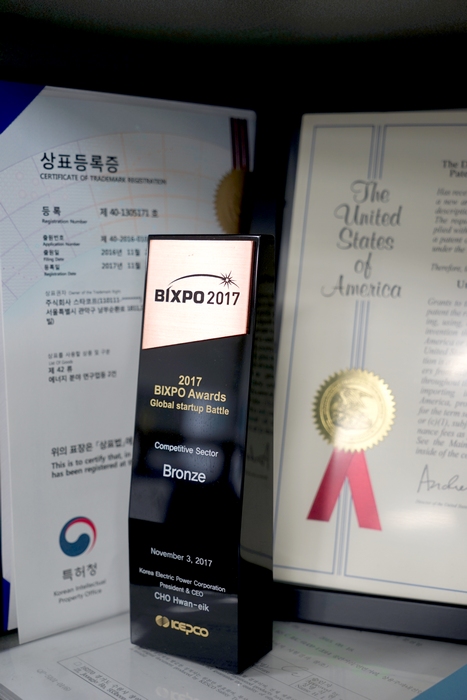 ---
---
Intellectual Property rights owned by STARKOFF Co., Ltd.
#
Date
File No.
Registeration No.
Title
PCT/International
Status
1
2014-09-26
10-2014-0129253
전기자판기


Publicized

2
2015-03-17
10-2015-0036900
10-1671760
멀티모달 정보를 기반으로 상황 인지 기능을 수행하여 사용자 인터페이스와 사용자 경험을 스스로 학습하고 개선하는 셋톱박스, 촬영 장치, 그리고 이를 이용한 방법 및 컴퓨터 판독 가능한 기록 매체
SET-TOP BOX, PHOTOGRAPHING APPARATUS FOR PROVIDING CONTEXT-AWARENESS SERVICES ON THE BASIS OF MULTI-MODAL INFORMATION TO THEREBY LEARN AND ENHANCE USER INTERFACE AND USER EXPERIENCE AND METHOD AND COMPUTER-READABLE RECORDING MEDIUM USING THE SAME
PCT/KR/2016/001332

Issued

3
2015-07-02
10-2015-0070163
10-1739976
IR 신호를 학습하여 종속 전자 장치를 제어하거나 종속 전자 장치의 제어를 지원하기 위한 방법 및 장치
METHOD AND APPARATUS FOR CONTROLLING SUBORDINATE ELECTRONIC DEVICE OR ALLOWING THE SUBORDINATE ELECTRONIC DEVICE TO BE CONTROLLED BY LEARNING INFRARED-RAY SIGNAL
PCT/KR/2016/007143

Issued

4
2015-07-02
10-2015-0165868
전력 소비의 시계열적 변화를 활용하여 적외선 원격 제어의 동작 여부를 판별하는 방법, 장치 및 컴퓨터 판독 가능한 기록매체
METHOD FOR DISTINGUISHING OPERATION OF IR REMOTE CONTROL EMPLOYING TIME SEQUENTIAL CHANGE INFORMATION OF POWER CONSUMPTION, APPARATUS AND COMPUTER-READABLE RECORDING MEDIUM USING THE SAME
PCT/KR2016/012144

Issued

5
2015-11-25
10-2015-0128638
10-1721670
공적 용도로 사용된 전력량과 사적 용도로 사용된 전력량을 구분하기 위한 방법, 단말 및 서버
METHOD, TERMINAL AND SERVER FOR SEPARATING AMOUNTS OF ELECTRIC POWER FOR PRIVATE USE AND PUBLIC USE

Issued

6
2015-11-25
10-2015-0165874
전기 장치의 시계열적 전력 소비 패턴을 기반으로 전기 장치나 그 사용 용도를 식별하여 전기 장치 또는 그 사용 용도에 대하여 전기 서비스 제공 여부를 결정하거나장치별 또는 용도별 과금을 수행하기 위한 방법, 측정지원장치, 단말 및 서버
METHOD FOR DISTINGUISHING ELECTRIC DEVICE OR PURPOSE OF USE BASED ON TIME SEQUENTIAL POWER CONSUMPTION PATTERN OF THE ELECTRIC DEVICE AND THEREBY DETERMINING WHETHER TO PROVIDE ELECTRIC SERVICE TO THE ELECTRIC DEVICE OR FOR THE USAGE, OR CHARGING FEES BY ELECTRIC DEVICE OR USE, MESUREMENT SUPPORTING APPARATUS, TERMINAL AND SERVER USING THE SAME
PCT/KR2016/011927

Issued
Contact Us
We are happy to answer any questions
---
Bring Innovation to your Daily Life